In 2021, Mijente saw a wave of wins that were possible because you! The organizers and volunteers, advocates and activists that pushed for justice made space for community victories. These flowers are yours, and we want to celebrate the wins with you.

The start of the year found us in the final sprint of our Georgia con Ganas campaign, an effort of Mijente PAC and GLAHR Action Network to knock every Latino door in the State of Georgia and win the Senate — flanked by phone calls, mailers, text messages, and digital organizing.
Our Electoral Efforts to Get the Goods
For 8 weeks, through a diverse, multi-racial coalition and a kick-ass canvassing program lead by GAN organizers, we engaged the Latino electorate one door and one conversation at a time. We knocked on every Latino door in the state, and contributed to massive Latinx early voter turnout, unlike the state had ever seen before. And we won the Senate.
And though our celebrations were briefly interrupted (by the insurrectionist storming of the capital that same day), we pushed forward knowing that the fight was just beginning.
We have always said that the Fuera Trump campaign to block Trump from a second term was not about choosing a savior, but instead picking a target who we would push on our demands for racial, economic, climate, and gender justice.
Grassroots Organizing with Co-Governance
In the summer, Mijente began working with elected officials in co-governance, ensuring they listen to their constituents, not corporate lobbyists, to push forward policies that benefit our communities. We held our first "Serve the People Exchange" to share lessons and explore questions about the dialectical relationship between contra and desde el estado organizing work.
The office of Vice Mayor Carlos Garcia (Phoenix, District 8) and the office of Councilwoman Lane Santa Cruz (Tucson, Ward 1) hosted our hub organizations Georgia Latino Alliance for Human Rights (GLAHR) and Siembra NC.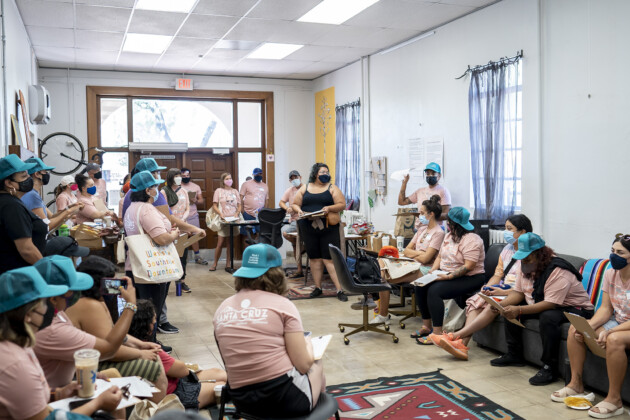 From Georgia to Massachusetts to New York, we got down to the grassroots level to create real, local change. In November elections across the country we helped:
Elect pro-Black and pro-Latinx city council members in Atlanta
Elect 3 Mijente members to Boston City Council, almost 25% of the entire council: Julia Mejía, Kendra Hicks, and Richard Arroyo
Elected Mijente member Tiffany Cabán to city council to continue spearheading a campaign to permanently close down the deadly prison on Rikers Island
Demanding Justice Far Beyond "Immigration Reform"
That's why we began our 100 Day campaign of Eyes on ICE, to make clear to the Biden Administration and new Department of Homeland Security (DHS) leadership that undoing Trump's immigration policies were not enough. They would have to go further in dismantling the immigration caging and deportation machine in order to secure the rights and wellbeing of immigrants in the US.
We collaborated with 78 different organizations to host 30 Truth and Accountability forums, with participation from 48 states & Mexico. We documented 150 testimonies speaking to the specific reasons why deportations must stop, ICE must be dismantled, and how to go about doing it.
Next, we focused on the Prosecutorial Discretion Memo (PD Memo), the document that guides Immigration and Customs Enforcement (ICE) agents on who they can arrest, detain, and prioritize for deportation. We know that directing an intervention strategy towards this policy could critically limit the power of ICE agents. A win on the PD Memo dramatically reduces deportations, ends family separation, and keeps our communities safe.
Then in the fall of 2021, DHS released its PD Memo policy for how ICE will conduct immigration enforcement in our communities – and we learned of our wins. By removing categorial criminal convictions as a basis for deportation, the memo reflects the hard-won efforts of organizers and advocates to shift towards more protections of the last 10 years.
With this, there is space for organizers to stay in the fight. Now, the guidelines can be used as a tool by organizers to stop our community members from being deported and make sure that local ICE offices and ICE agents follow their own guidelines.
In November, we started supporting cases of detained individuals for release under the new guidelines, including Marvin Reyes who was freed from two years in detention on December 8th 2021. People like Marvin Reyes have the chance to return home, because past criminal convictions can no longer be used to make someone a priority for deportation. We've also helped set up a framework to protect workers and tenants from being retaliated against when they speak up about workplace abuse or landlord issues. 
Building the Next Generation of Organizers to Win
This year we also tapped into the power our neighborhoods already have: each other.
With your help, we are increasing our organizing capacity across the country by jumpstarting our 6-month Latinx Organizing Fellowship to train community members and organizers in political education, power mapping, campaigns, facilitation, and base-building.
This is just the beginning of a multi-year strategy to continue changing the political landscape and deliver our peoples' demands.
---
We will continue in our commitment to building Latinx political and social power that impacts the daily experiences of our gente. These huge wins were only possible because of Mijente members, local community organizers, volunteers, and donors. We're grateful to you for your support, and look forward to throwing down with you in 2022 and beyond.